Viral Sunset projection lamps are taking social media by storm. I am pretty sure you must come across these mesmeric golden lights while scrolling through the feeds on social media. The Sunset projection lamp gained popularity from TikTok and Instagram. TikTok videos featuring this mood lighting have more than 298 million collective views. Users called this lamp a "mood changer".
Well, it is not very surprising that why people are in the obsession with these Sunset projection lamps. In Super-snowy winters and earlier sunsets, being cooped up at home during colder stretches. These golden hour lights bring a dose of sunshine into your house and help to reduce any stay-at-home fatigue and winter blues depression.
What is a Sunset lamp?
A sunset lamp is a small tabletop lamp that projects a range of colorful lights on nearby surfaces. The most popular is a golden yellow shade like a real-life tropical sunset. The LED bulb emits a beam of light through the lens which projects the warm-balmy sunset light onto the surfaces. It has a strong aluminum body with a sturdy base. The circular head of the lamp is adjustable, you can face it at the wall. Up onto a ceiling or down at the floor.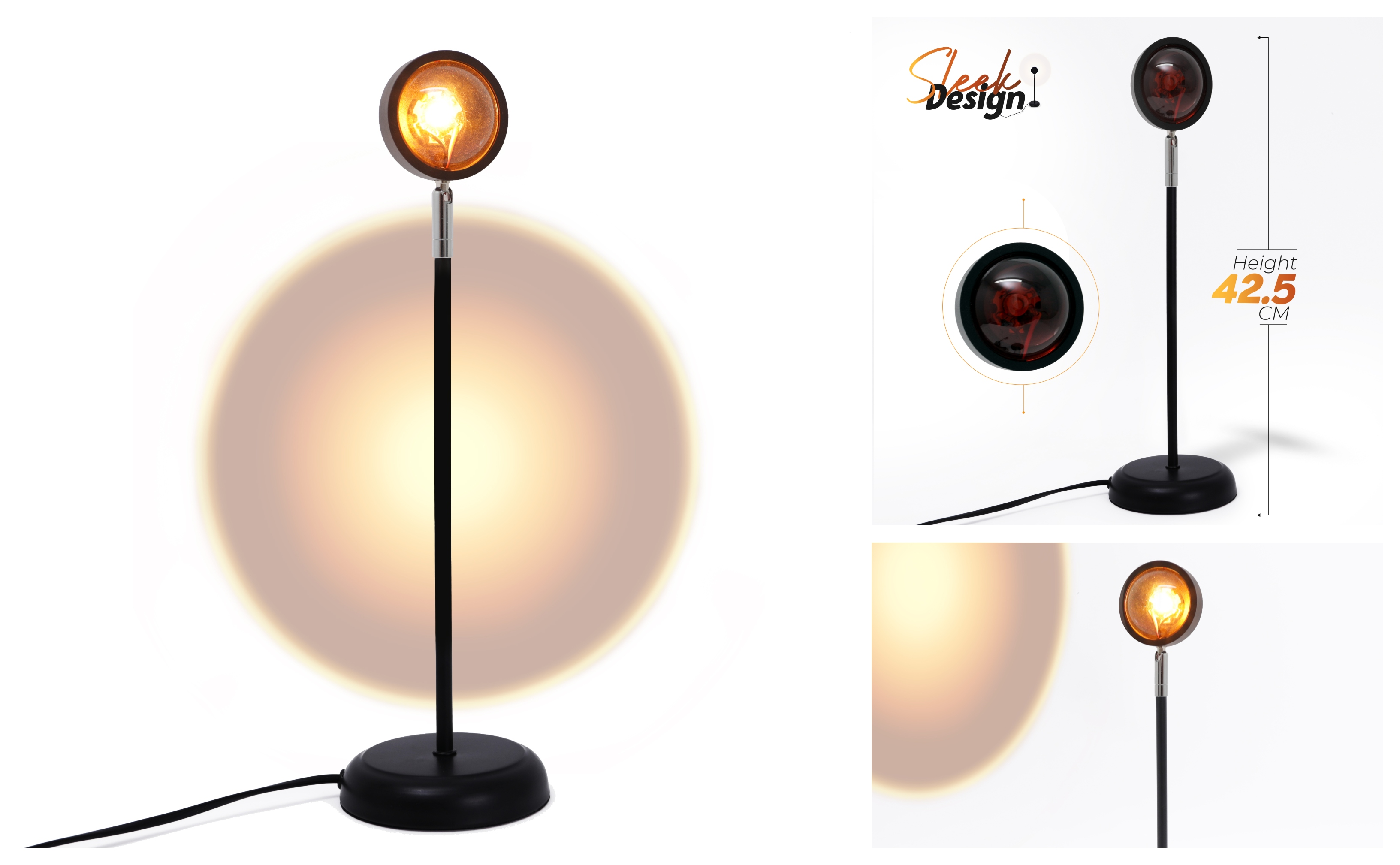 How the Sunset lamp works
Simply plug the lamp into the power source and face the lens at any surface of your choice. The LED light bulb emissions through the lens will project bright golden-yellow hues on the surface. These hues of light produce the best soothing and calming experience in dark. To get the best experience, make sure to use them in a dark space. Moving the light closer to the wall will make smaller colorful and more vibrant hues of light. Moving it farther away makes larger and dull hues of light.
Why you might want Sunset lamps
Well, there are many benefits of using the Sunset lamp,
Sunset lamp as a Mood changer
Social media users called it a "mood changer". On snowy winter days when people are unable to go outside and watch the real sunset. They opt to turn on the sunset lamp for a quick mood boost. The sunset projection lamp adds sweet vibes to the room and helps to set a relaxing mood. It turns the boring room into a relaxing oasis.
Sunset lamps may help to reduce seasonal affective disorder (SAD)
In winter blues, lots of people get depressed and suffer from winter depression which is medically called seasonal affective disorder (SAD). The treatment of SAD involves getting more light into life. The sunset lamp casts a glowing light meant for a real-life sunset, and it does a convincing job. Sunlight therapy may also help to regulate the circadian rhythms to keep internal clocks running smoothly, If there is not enough natural light outside then a sunset lamp is the best option.
Sunset lamp helps to enhance wellness and relaxation
Sunset lamps are often marketed as a way to promote relaxation and wellness, and there is some research to support these claims. For example, exposure to warm, soft light has been shown to increase the production of the hormone melatonin, which helps regulate the sleep-wake cycle and promotes feelings of relaxation. Sunset red lamp can also help reduce stress and anxiety by creating a calm and soothing environment, making them a popular choice for those who struggle with sleep or relaxation issues.
In addition, sunset lamps can be used as a natural alarm clock. By gradually brightening as the sun rises, they can help gently wake you up in the morning and prepare you for the day ahead. This is a great alternative to traditional alarm clocks, which often jolt you awake with a loud noise, disrupting your sleep and making you feel groggy and disorientated.
If you are the type of person interested in creative photography, art, and anything that other people might find weird, then a sunset lamp is the finest option. This sunset lamp will add a perfect touch to your photography and home décor. The 360-degree rotation of the circular head makes so easy to adjust the right angle for the picture.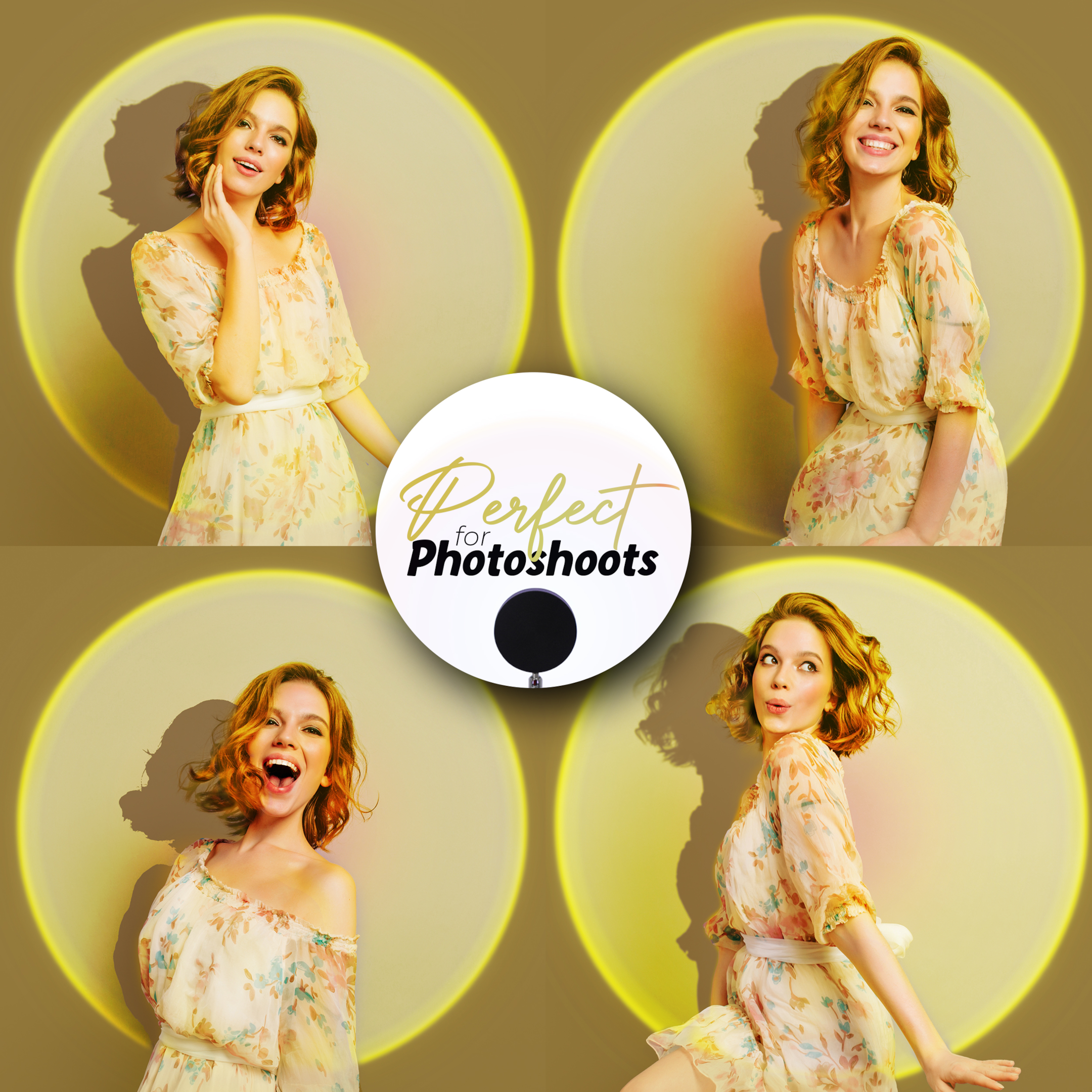 The Gleamo Sunset lamp is best for selfie lovers. It provides you romantic background and allows you to take incredible pictures at home without any professional skills. The 180 degrees of rotation of the bulb can help to adjust the angle, size, and shape of the projected halo of the sunset projection lamp.
The greater the distance, the greater the projection that the sunset lamp can throw on the wall or ceiling. The light casts amazing-colored circular lights on the wall, ceiling, and floor. 
Sunset lamp as Gift
It is an amazing gift for people who loves creating aesthetic photos.  It's the type of cool and unexpected gift that people brag about to all their friends. Moreover, a sunset lamp can transform your dwelling into a hub for love. Treat your date to a fairy-tale experience with warm glow light. It'll create a huge impact.
If you're having friends over for a night of dancing and music, projection lamps are the perfect indoor party light to soak your home in rave-like yellow, blues, and reds. These lights are just as good for more relaxing parties, where they can set a tranquil mood for a low-stakes catch-up with friends.
Sunset lamp as elegant decor Lamp
The rainbow lamp is the perfect way to add a touch of elegance to any room. It also provides beautiful lighting to the bedroom and home parties. This lamp will create a warm and inviting atmosphere for your guests. The night light will give your home a gorgeous look with beautiful and natural rainbow colors. Add this lamp to your home and spruce up your home decor.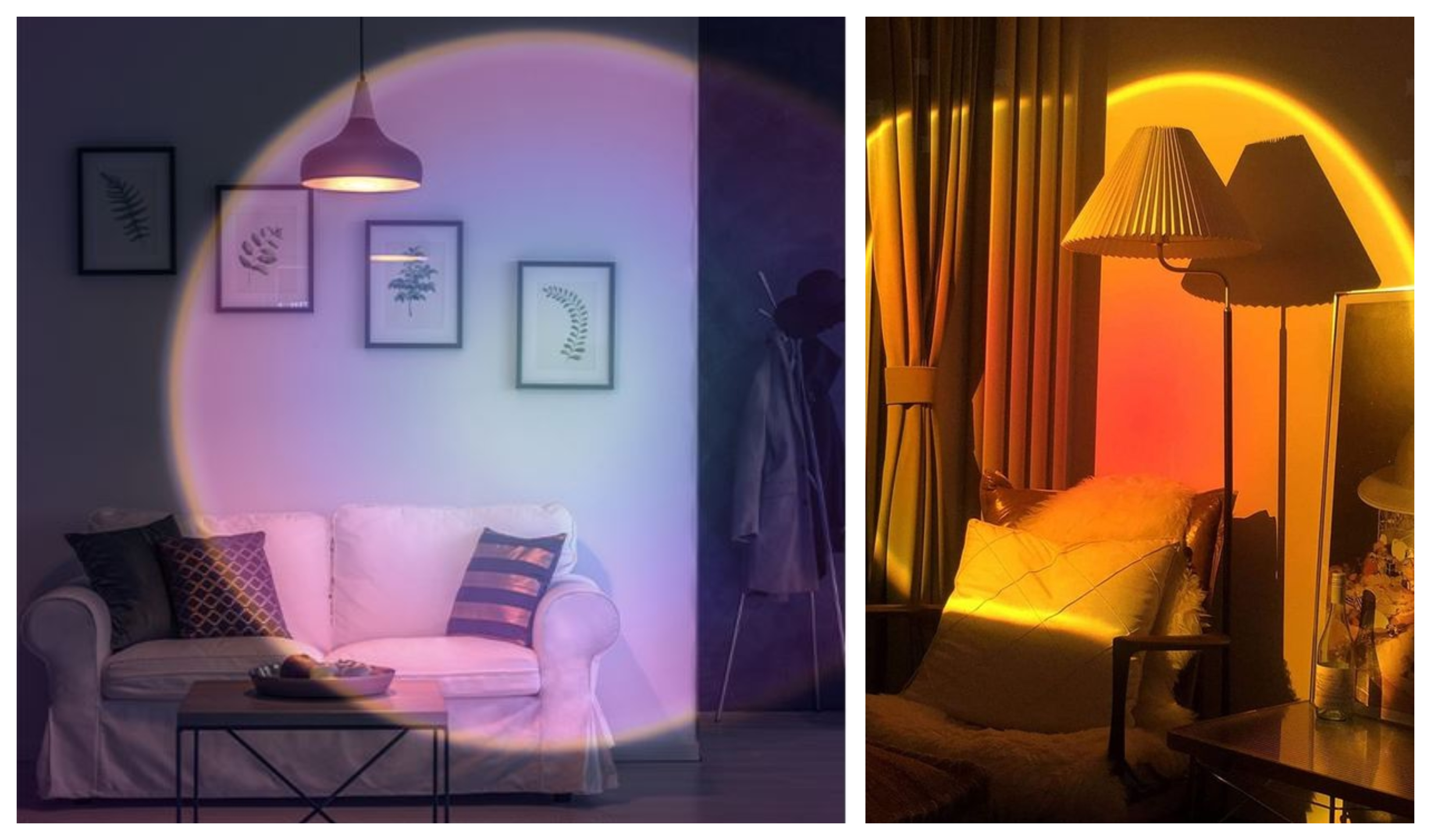 How to Improve Your Room's Aesthetic with a Sunset Lamp?
Your house is your sanctuary. Its environment affects your mood. The Soft and warm light of the sunset projection lamp creates a calming ambiance to your room's aesthetic. It will help to ease your mind and lower your day-to-day stresses.
Gleamo Sunset lamps are a type of lighting that mimic the colors and effects of a sunset, providing a warm and calming atmosphere to any room. These lamps are designed to gradually shift from warm yellow and orange hues to deep reds and purples, simulating the colors of a sunset sky. They have become increasingly popular in recent years as people seek ways to reduce stress and improve their sleep and are being marketed as a tool for promoting wellness and relaxation.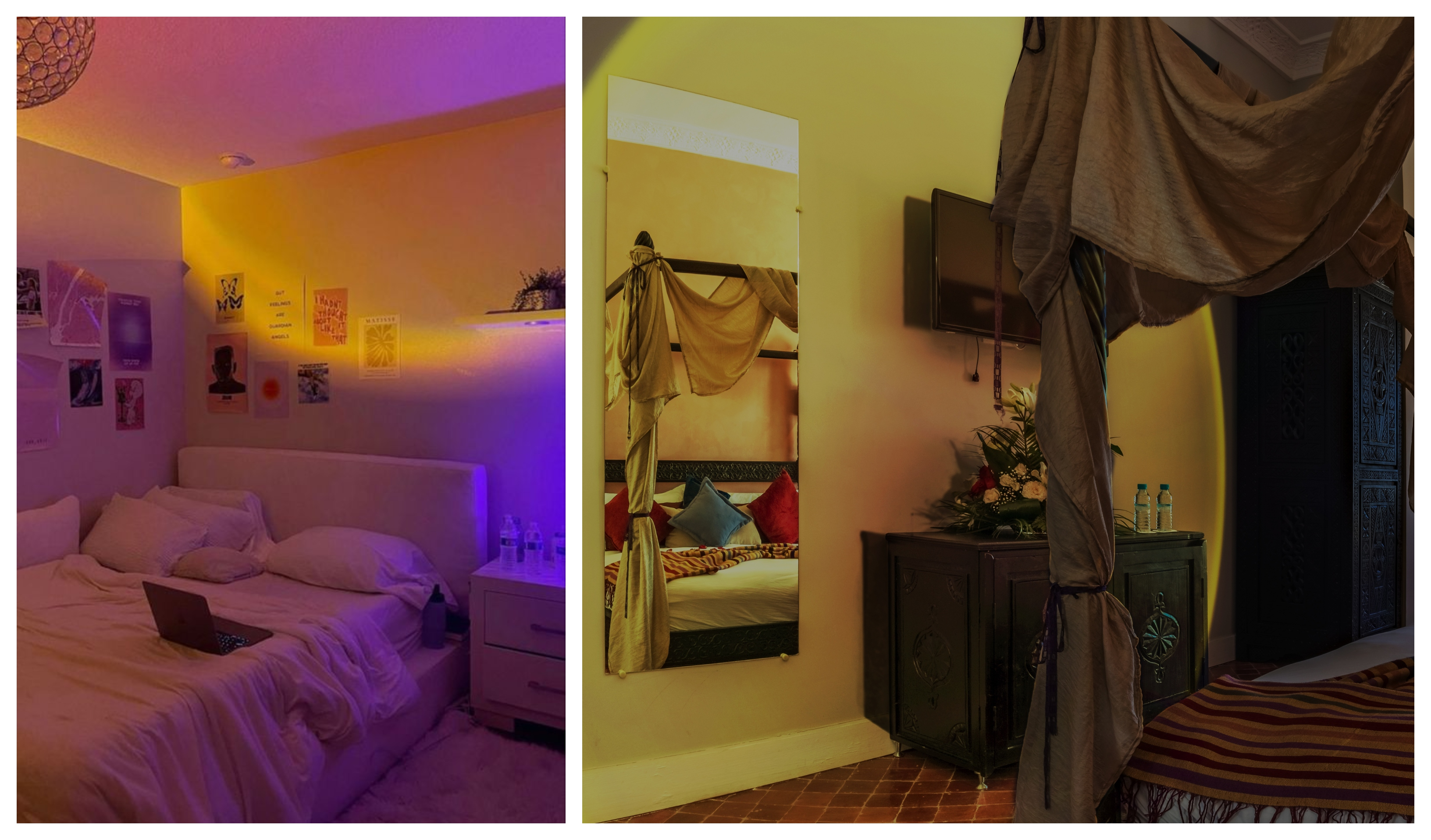 In Winter blues, the sunset projector lamp brings the feel of sunshine into your room. You can sit at home, watch the sunset, and talk with friends or lovers. Romantic dinner with your loved ones under the shower of projection light sets the amorous feel in the atmosphere.
A sun projection lamp is ideal for party celebrations. The pleasant aura of night light gives an exciting feel to the party. Because of the glare-free effect of sun lamp, it is fantastic for creative social media influencers, Photography lovers, and décor lovers. Especially, children would love to enjoy the soothing experience of light. It is ideal as a children's room night light.
Where to buy tiktok's viral sunset lamps?
Gleamo has introduced nice and high-quality best sunset lamps at an affordable price. The lamp comes in four variations Sunset lamp, Sun Lamp, Rainbow lamp, and Sunset red lamp. There are some cool features of the lamp:
VISUALLY PLEASING – Ease your mind and enjoy some peace and tranquility with our Sunset Light. It's a perfect addition to any room, providing a touch of beauty that's also calming: it can turn a boring living room into a relaxing oasis right away.

IDEAL LIGHT PROJECTION – You won't be bothered by the colors because they're neither too brilliant nor dim: the light is energy-efficient and glare-free. With its natural colors and soft glow, this aesthetic lamp is sure to bring peace and relaxation into any room.

360 DEGREE ROTATION – So whether it's a party or a photography session, you can ace it with our night light. Capture the bright colors in all their glory with this 360 degrees rotating light. With different angles available, you can snap photos like a pro!

QUALITY CONSTRUCT – The led sun lamp is made up of iron and aluminum for maximum durability. Furthermore, the stable base keeps it balanced and in place, while the sturdy and high-quality construct ensures it lasts for years to come. Use the Plugin cable to light it up.

CONVENIENT AND EASY TO INSTALL – These sun lamps feature a convenient ON/OFF switch that makes them super easy to use. Gift it to your loved ones as it will surely please everyone, thanks to the warm and cozy feeling it brings along.
Final thoughts
Sunset lamps are a great way to promote relaxation and wellness in your home. By mimicking the colors and effects of a sunset, they can help reduce stress, improve sleep, and create a calming and soothing environment. Whether you're looking for a simple LED lamp or a more advanced, multi-functional model, the Sunset lamp is a perfect gift that has various benefits. So why not try one today, and see the difference it can make in your life!!